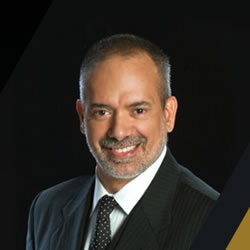 ABOUT OUR FOUNDER
Colonel (Ret) Elvis Acosta - U.S. Army, Military Intelligence
and Senior Special Agent for Civilian Federal Law Enforcement
Retired Colonel Elvis Acosta has over 30 years of federal government service experience. His previous experience and accomplishments include:
Director, Mission Support and Senior Army Advisor for the US Pacific Command (USPACOM)
- Joint Intelligence Operations Center (JIOC), a 600 plus joint-service intelligence organization.


»

Lead a staff of 61 joint-service and Defense Intelligence Agency (DIA) civilians in the execution of
day-to-day service support for the Military and Civilian Human Resources Center, Special Security Office, Joint Intelligence Training Academy-Pacific,
Logistics and Facilities, and joint-service Reserve Affairs Divisions.


»

Synchronized and orchestrated the allocation and application of all service support for USPACOM Theater OPLANs/CONPLANs and supported the
execution of the USPACOM intelligence mission.


»

Developed and implemented best practices to improve organizational efficiency, productivity, agility and conservation of limited resources.


Previous positions within the US Army have been as:


»

Chief, Strategy and Concepts, G3-Plans Division and Senior Assistant Contracting Officer Representative – Intelligence and Security Command (INSCOM)


»

Chief, Operations - Joint Interagency Coordination Group (JIACG) - US Central Command (USCENTCOM)


»

Intelligence Supervisor, Information Superiority - Standing Joint Forces Headquarters (SJFHQ)


»

Liaison Officer, Special Operations Command - Central (SOCCENT)


»

Assistant Army Attaché - US Embassy - Sudan - Defense Intelligence Agency (DIA)


»

Deputy Program Manager, Overt Operations – Defense Intelligence Agency (DIA)


»

Chief, Interrogation Control Element – Guantanamo Bay, (GTMO) Cuba - Defense Intelligence Agency (DIA)
Senior Special Agent/Polygraph Examiner - U.S. Customs Service (USCS)
Served as a technically qualified and certified polygraph examiner through the former Department of Defense Polygraph Institute (DODPI).
Administered such examinations in the English and Spanish languages.
Determined whether subjects were suitable for polygraph examinations by virtue of physical and psychological maladies.
Coordinated and furnished overall direction of highly sensitive and complex criminal investigations.
Directed junior special agents and conduct specialized training mandated.
Provided leadership in such investigative matters as developing facts and evidence, gathering information and intelligence, performing analysis, preparing and executing warrants and preparing detailed investigative reports and oral briefings.
Initiated, presided and coordinated highly complex and sensitive criminal investigations, including the following types: Financial, Fraud, Strategic, General and Child Pornography investigations.
Special Agent - Bureau of Alcohol, Tobacco, and Firearms (ATF)
Independently conducted investigations that encompassed the full range of violations under the laws enforced by ATF.
Collected general information and intelligence on individuals or groups suspected of violating the above laws.
Conducted investigations related to specific cases involving sources of supply of weapons, explosives, bombs or component parts.
Assumed undercover roles to purchase contraband, to observe illegal activities, and to obtain additional intelligence.
Developed reliable confidential informants within violation group(s) for the above purpose.
Participated in raids, Superior and District Court search and arrest warrants.